Well the 240Z is underway. The suspension has been yanked. One of the spinel pins was original and the other was obviously replaced at some point in its life.. Probably when my buddy put in the Tokico shocks and springs. It was never on the road since then so the shocks and springs are mint, but out with the old in with the new.
The spindle puller I got from Hybrid Z forum member was a beefy piece of kit and it did the trick with no discernible wear and tear on the tool…
The fronts I got all stripped down with no issue. The rears stub axels on the other hand laughed in my face. My 600 foot pound battery impact was just laughed off. I went to my buddies house and the first bolt came loose with his Air Impact tool but no joy on the second one. Finally with his bench vise and 2 foot breaker bar and our 400 pounds of meat finally got the second one to come loose. Do those nuts really need to be that tight???
Then it was on to getting the spring perches off of the struts.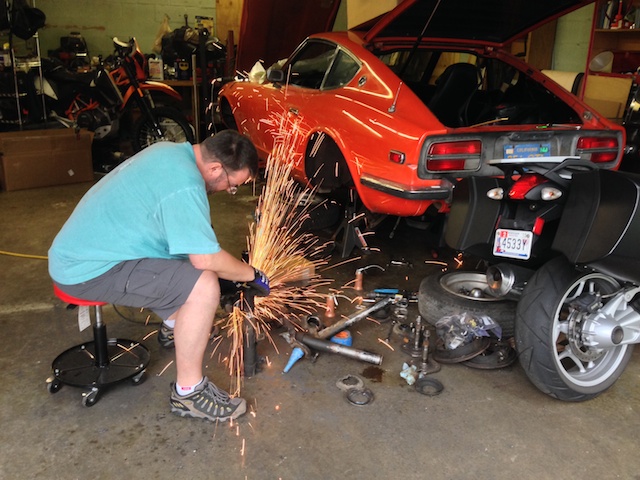 As this was my first time grinding on metal or cutting things with an angle grinder it took a long time for the first one.
The second one went much faster.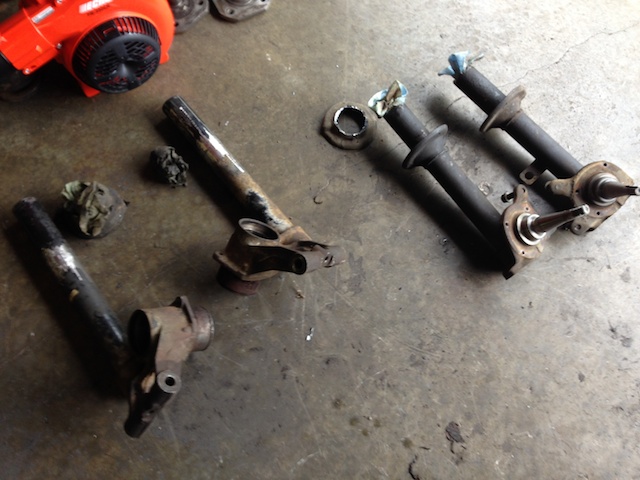 So by the time I got to the fourth one it was a pice of cake.
Still have not cut off the brake line tabs on the front struts yet and will have to do it at some point.
My pipe cutter finally showed up on Saturday afternoon and I got busy cutting some 2 inch pipe into 1 inch rings.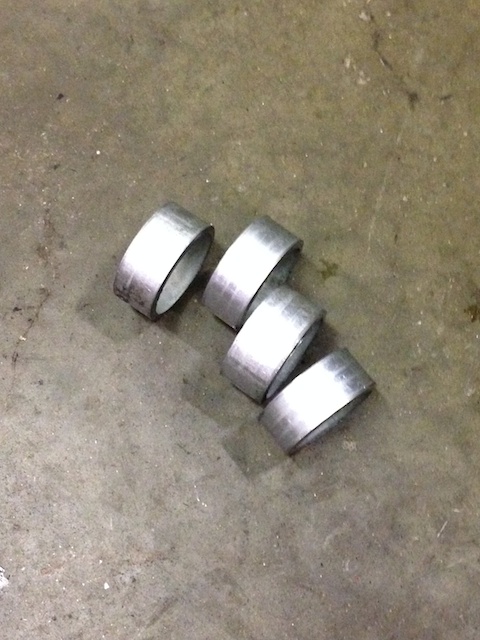 Now I just have to do a bunch of measuring before I cut the strut tubes down to size. I am doing Koni 8611-1259 inserts and they are double adjustable ones with the compression adjustment on the bottoms of the inserts so I need to make allowances for this in the fronts.
I have done extensive reading on Hybrid Z about how to deal with the adjuster and it looks like the only thing you can do is cut the bottom and then take the two bolts at the bottom of the struts off in order to adjust them while they are still on the car. Has anyone found an easier way to make the adjustments on the compression easier than taking the knuckle arm off of the bottom of the strut?
No rushing as it has to be right the first time…