Since Borepatch nudged my comment section asking for an update on my Racecar and its stumbling after 5K RPM I figured I would post up.  So I was able to get the 240Z running again just in time for Solo Nationals in September.  Well I made an appointment with my tuner Peter Florance since the car felt a little sluggish and thats not the way to go to Nationals…
Upon the first Dyno pull we were a bit dismayed to see that there were only 112 ponies running to the rear wheels.  So 58 ponies seem to have fled the corral.  We changed the plugs on the Dyno as well as trying a whole bunch of other things, eventually we were able to coax 132 ponies which was a bit of a disappointment but a whole lot better than where we started that day.  Peter figured that we had a cylinder down, so when I got the car back to the house we did a compression check and sure enough the number 4 cylinder was only at 120 PSI where the rest were some where around 165.  So #4 had left the building.
I headed to Nationals with a sick motor with the intent to just have fun.
Fun was had…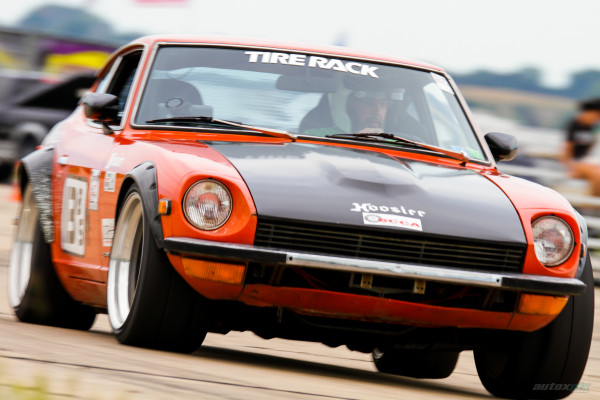 I even ended up with a co-driver when his BSP BMW M3 grenades its clutch plate and none of the other single driver cars would let him come play.  I warned him that I had a Volvo motor and it was really down on power but he still wanted a ride, can you blame him after driving 1500 miles…
So after Nationals it was time to get the motor rebuilt.  So it was pulled and when we took the head off the #4 cylinder wall was pretty scored.  I had decided that this motor would be built to the BSP rules.  So nothing was left undone, overbored the cylinders 1mm which was the maximum allowed, new dished pistons.  I got 4 sets of factory springs so I could measure them with a spring gauge and get 12 springs that were at the upper limits of the factory spring rates.  Lash pads were done and the valve timing was adjusted for optimal performance.  I just got the motor back a few weeks ago and it looks like this now.
My good friend Mike came over and 4 hours later this was the end result…
So now I am doing a few things that my tuner suggested as far as the intake is concerned and will do the first start on Wednesday or Thursday and then off to the tuner after 30 minutes to an hour of break in at moderate RPMs…  Hopefully I will see 180HP…
Anyway maybe it is time to start blogging again now that I have stopped using FaceCock.