Well the glasses did the trick, the front sight is now in crisp focus all the time, the target at 25 feet is in good enough focus that I can put the sights on the bottom of the bulls eye and be on it. I have always known that pistol shooting was a fairly perishable skill. After 1200 rounds through the CZ Shadow2 I feel that I have that gun getting back under control and the group size and placement keeps getting better. Now last night I got out Old Faithful, my Nighthawk Custom Dominator for the first time in a long while and gave it a go. I have always just gelled with this gun, I put the shots where I wanted them while shooting IDPA 95% of the time. Now I seem to be struggle it with trigger control and probably grip as well. I can get hits in the center, but man I have to work for them.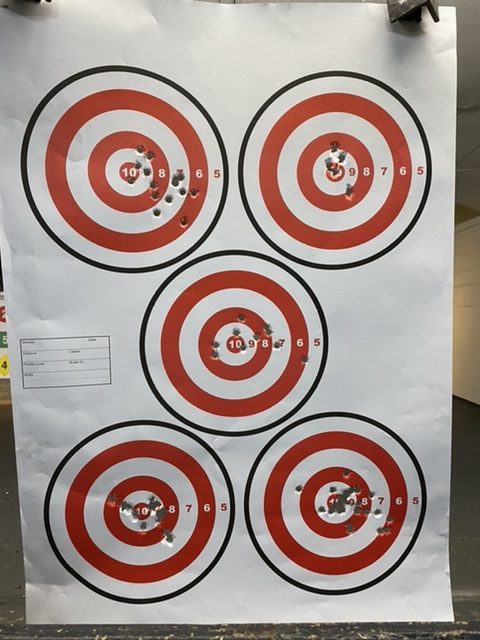 The upper right and lower left are the Shadow2, the rest are the Dominator. I am just pulling them low and to the right which for a lefty means a combination of Trigger and anticipation.
I think it might be time for a pistol school or two. Anyone know of a good school in the Mid Atlantic that won't start off with "this is then end the bullets come out of" type of instruction. I think I need to clean up my finger placement on the trigger and my grip. But I am not adverse to learning new things and trying out new stuff.